One of the World's Top High Grade Tin Projects
Our first and flagship project is The Great Wheal Vor group of 26 former producing tin and copper mines in the Mining District of Breage, Cornwall, UK.

Described in 1929 as "the richest in tin of all the Cornish mines, probably the richest tin mine which has ever been worked in the world" (Hamilton Jenkin, writing in 1929).

Historic production grades were exceptionally high, averaging over 3% Sn (tin) and peaking at over 5.5% Sn. By grade, if being mined today, it could be in the top 3 tin mines in the world. Our mineral rights cover all minerals and aggregates, including tin, copper, lithium, tungsten and geothermal energy.
An Opportunity That Has Taken 150 Years To Arrive - Why Now?
Why The Mines Closed
The mines here closed in the 1870s, not through lack of tin, but due to 20 years of litigation against illegal operators who took what they could grab, against a deadline, but left significant mineral resources still in the ground. Operations were also hampered by poor mining practices and the inability of technology at that time to extract the ore at depth.
Unified Mineral Rights
Since the mines closed 150 years ago, no-one has been able to put together the necessary mineral rights to take this forward, until now. Our Founder has many years experience in negotiating mineral rights and has successfully secured rights for numerous companies in the UK and globally. Even with this legal background, it has taken 5 years to sort out legal control of the minerals.
Standardised Agreements
For the first time in history, Cornish Tin has unified it's chosen exploration areas with standard agreements with the mineral owners, giving Cornish Tin the rights over all minerals and aggregates including tin, copper, lithium, tungsten and geothermal energy.
High Grade Ore
Historic production grades averaged over 3% Sn (tin), peaking at over 5.5% Sn (tin). By grade, if being mined today, it could be in the top 3 tin mines in the world.
Taking into account Trounson's data on historic production grades (>5.5% Sn) an assumption has been made that a head grade of at least 2% Sn could be achievable by Cornish Tin. Even at this grade, the Great Wheal Vor mines would, if being mined today, be among the top three highest grade tin mines in the world: for illustrative purposes only see comparison table.
Significant Tonnage Remaining
Over 5 years of geological research by Cornish Tin has significantly advanced our understanding of the potential remaining resource, resulting in our fully modelled exploration drilling program.
Low Processing Risk
Industry standard technology likely to achieve viable recovery rate. High grades means less waste and potential for green tech applications and utilisation of sustainable energy.
---
Mineral Rights Control - The Key To Progress
The colour blocks on the plan represent the different mineral rights ownership areas today within the Project Area.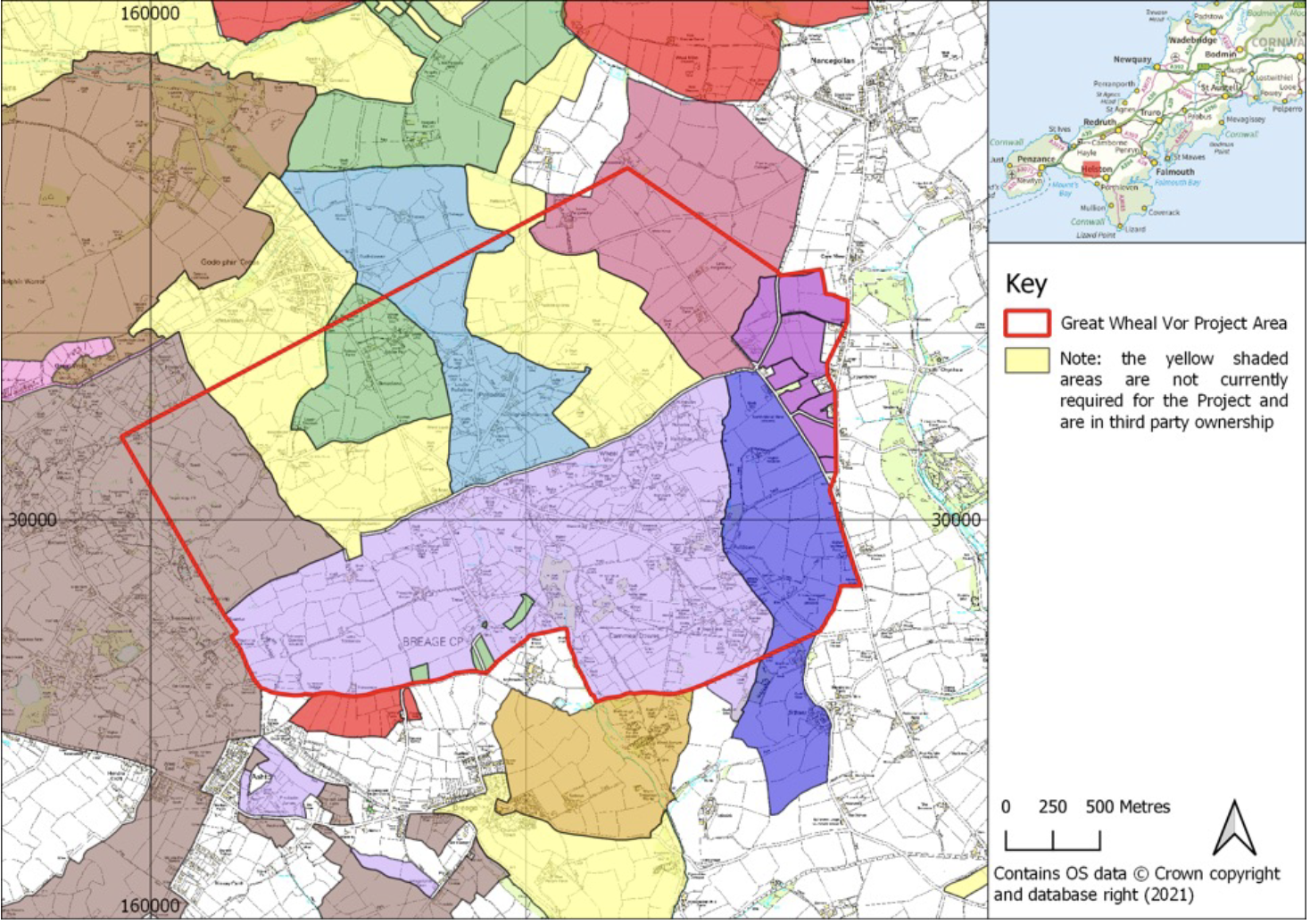 ---
Geology and Research
Phases 1, 2, and 3 (P1, P2, P3) drilling programs modelled by Cornish Tin. Phase 1 diamond drilling of approx total 7,000m in 33 drill holes as a dynamic program. Additional P2 and P3 holes plotted to maximise potential resource. Focus is currently on relatively shallow holes and extensions of known mineralisation, with the aim of testing for high grade tin mineralisation (>1.4% Sn) and achieving an Indicated Resource.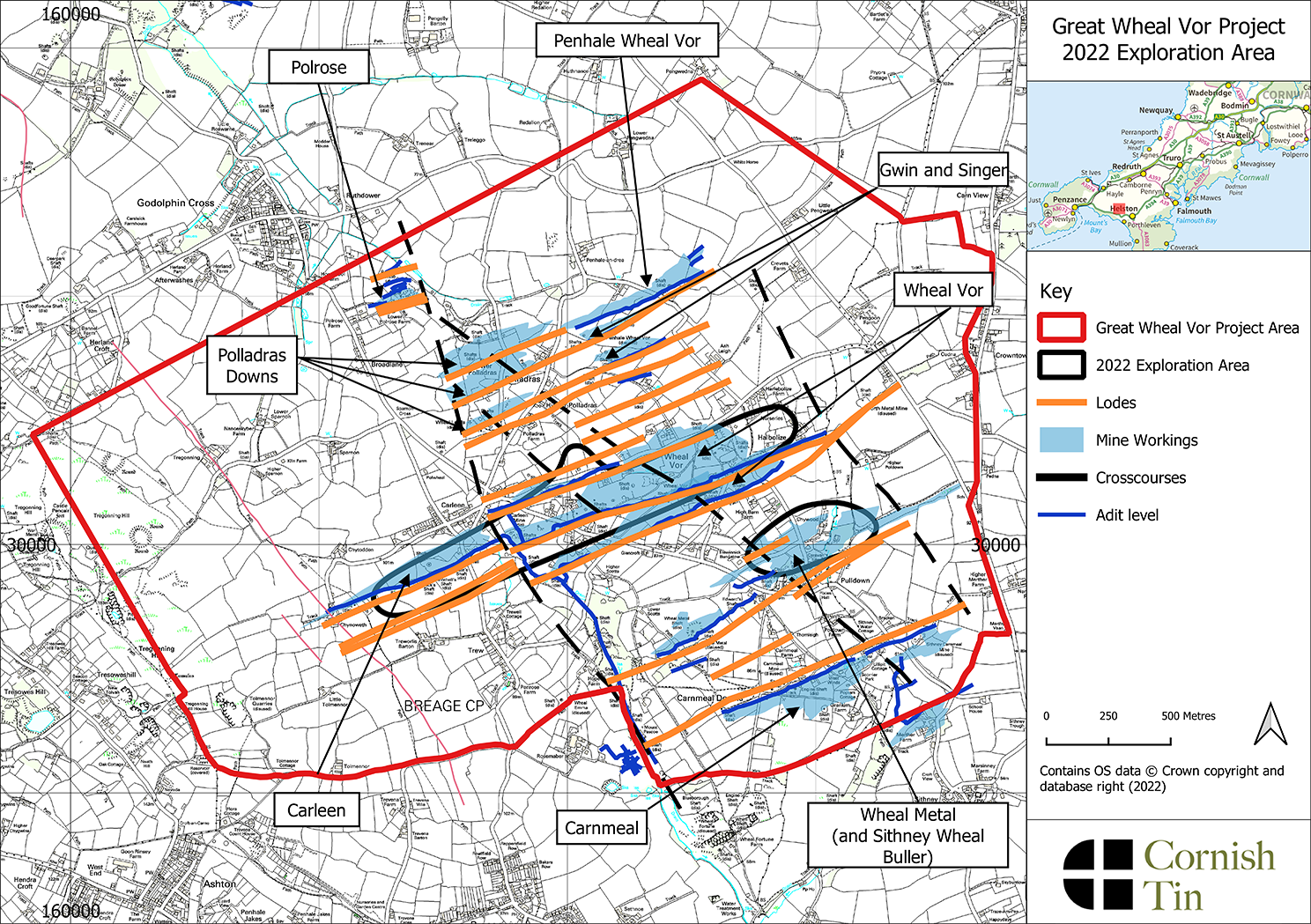 Unique Geology
Mineralisation in the Project Area has a strong structural control. Cornish Tin has identified key lode intersections which controlled high grade formation. Key exploration targets include extensions to identified principal ore shoots, identified hinge zones and hangingwall splays.
Camborne School of Mines Collaboration
Camborne School of Mines, University of Exeter research project 2019 – led by Dr Robin Shail, senior lecturer in geology at CSM, with a team of consultants and geologists. This work has contributed to direct verification of collar locations, and understanding of controls to grade distribution within the mineralised system. Cornish Tin is participating in NERC GW4+ PhD project to re-evaluate the principal ore mineral parageneses in SW England, and is a partner in the MET 4 TECH research project.
Positive National Benefits and Government Support
High Potential Opportunity for the UK
Government has recognised the important role Cornwall's natural resources will play in achieving maximum self-sufficiency by designating mining in Cornwall as a "High Potential Opportunity".
Domestic Supply of Critical Minerals
A domestic source of critical minerals is essential if the UK is to de-risk supply chains whilst meeting ever growing demand, and mitigate tariffs on UK exports from 2027 under post-Brexit Rules of Origin.
Circular Economy
Our vision is a circular economy for critical minerals within the UK, ideally with an onshore smelting hub powered by sustainable energy, as a driving force in our fight against climate change.
Positive Regional Benefits and Local Support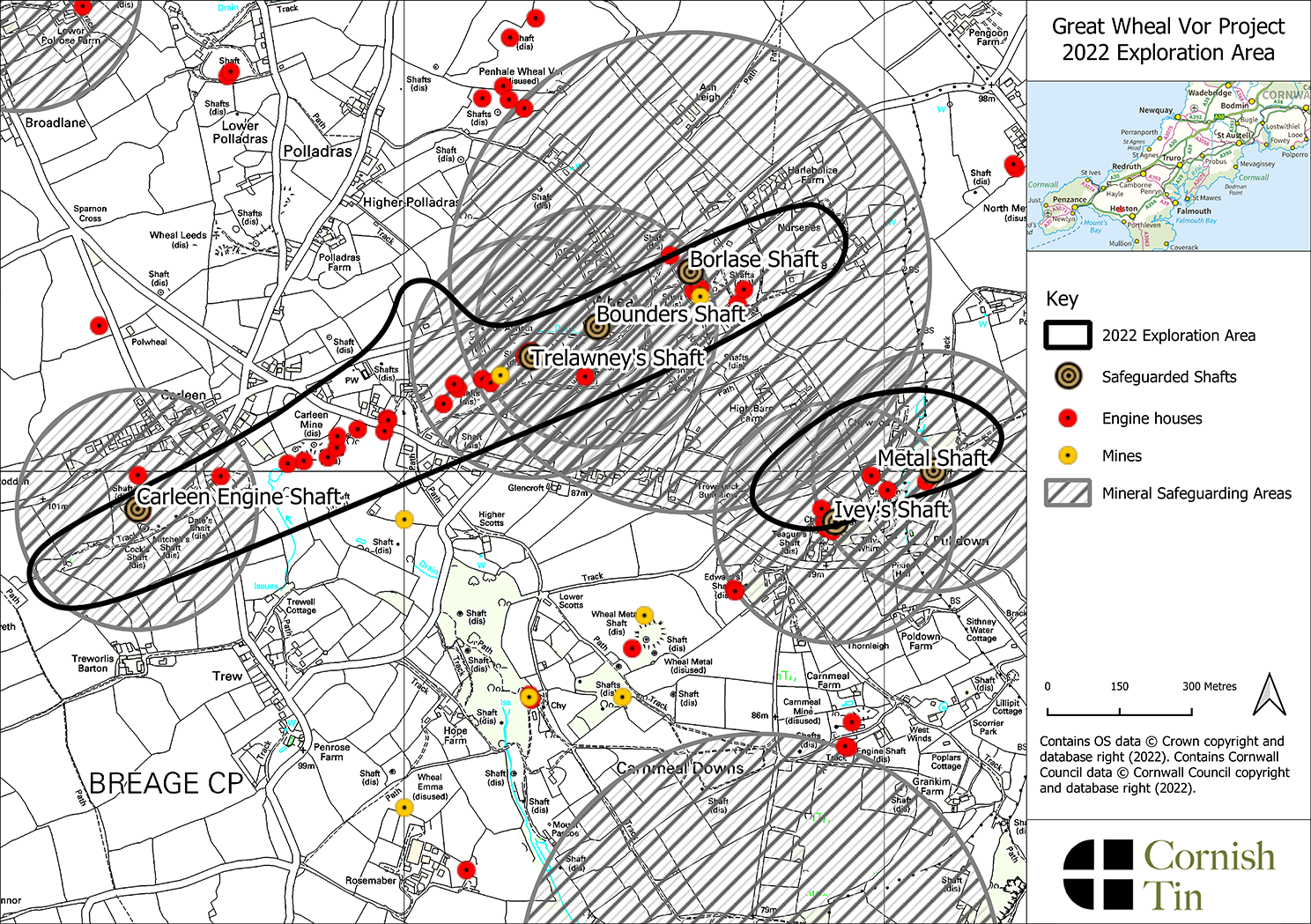 Local Government Minerals Safeguarding
Cornwall Council Minerals Safeguarding Development Plan adopted 2018, states: "Cornwall will have a world class thriving minerals industry". The Plan specifically safeguards the mineral resources and infrastructure in the Project Area from sterilisation by surface development which would conflict with mineral use of site.
Local Jobs and Careers
Cornwall is one of the poorest regions in Europe, but with investment could level up, to retake its place as Europe's leading tin producer, providing much needed careers and jobs for the working people of Cornwall. "When (and it is when) current exploration for tin, copper, lithium and tungsten realise their potential, hundreds of much-needed jobs will be created and, once again, mining in Cornwall will be at the heart of the 21st Century industrial revolution." Mike King, MD of Cornwall Development Company, May 2021
Subscribe For News Updates
Stay up to date with the latest news straight to your inbox.
We take your privacy seriously, you can unsubscribe at any time.