The Green Technology Revolution
The UK is totally dependent on tin imports, of which 75% come from Asia (mainly China, Indonesia, Myanmar), which can involve low ethics in production, exploitation of workers, and high carbon emissions…

…but there is a better way.
Cornish Tin Limited is helping to drive the development of Green Mining in Cornwall and the UK.

Our green future needs sustainably mined resources, and MIT predictions put tin at the top of the list of metals needed for the green technology revolution.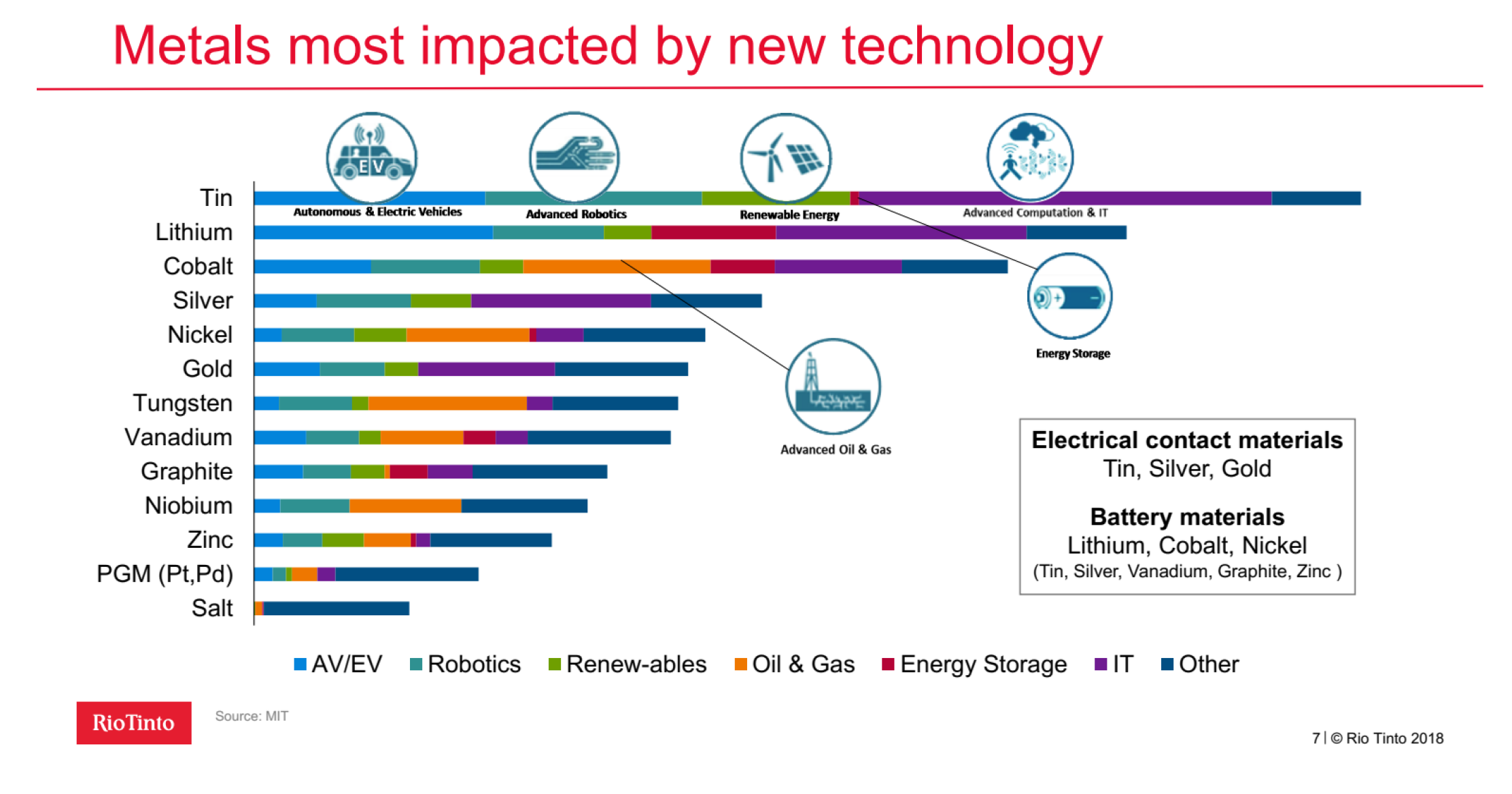 Tin is essential to build and power new generation technology. Cornwall has an important domestic resource and can mitigate total UK dependence on tin imports.

UK Government target of net-zero vehicle emissions by 2040 is increasing the demand for tin. "Around half of all tin used globally goes into soldering circuit-boards, the hidden drivers of the electronic world, meaning it is everywhere but nowhere to be seen. The metal may not grab the headlines in the same way as cobalt or lithium, but electric vehicles aren't leaving the garage without it." Reuters 19 May 2021
Industry Overview
Most Impacted Metal by Technology
Massachusetts Institute of Technology (MIT) analysis for Rio Tinto in 2018 identified tin as the metal most likely to be positively impacted by the electric vehicle and energy storage revolution, with other key drivers of demand being advanced robotics, computation, climate change and the Technology of Things.
Upward Pressure on Tin Price
The current high tin price has been long-predicted. The tin market is small (~360,000 tpy) but "if MIT is right in its findings, there is a slow-burn bull fuse smoking away in the tiny tin market" (The National: 2018) and the International Tin Association (ITA) New Technologies Report 2020 reinforced this assessment.
Technology Supercycle Driving a Global Surge in Demand For Tin
ITA New Technologies Report 2020 also predicted theTECHNOLOGY SUPERCYCLE which is now driving a surge in global demand for tin as a necessary component in many developing technologies. Any combination of supply disruption is going to have an outsize impact on price.
Increasing Demand in Conventional Applications
In addition to the disruptive effect on the tin market caused by new technologies, there is stable demand and historic steady growth at 2% to 3% pa in conventional applications,including electronic and industrial solder, chemicals, tinplate, float glass, brass and bronze.
Global Demand Forecast to Outstrip Supply
Thin supply pipeline: depletion of existing mine reserves and recent lack of investment in early stage exploration projects indicate that global supply is unlikely to keep pace with future demand.Forecasters expect ongoing increasing deficits, with demand continuing to increase and global supply continuing to fall, unless new production comes on stream.
Cornwall ready to re-take its position as Europe's leading tin producer
Tin is already designated as a critical mineral by both China and the US, and is on the edge of criticality in the EU raw material risk matrix. Cornwall is well placed through the tonnage and high grades of its tin resources to re-take its former position as Europe's leading tin producing area.
"A domestic source of critical minerals is essential if the UK is to de-risk supply chains whilst meeting ever growing demand. Government has recognised the important role Cornwall's natural resources will play in achieving maximum self-sufficiency by designating mining in Cornwall as a High Potential Opportunity. When (and it is when) current exploration for tin, copper, lithium and tungsten realise their potential, hundreds of much-needed jobs will be created and, once again, mining in Cornwall will be at the heart of the 21st Century industrial revolution."
Mike King - May 2021
Cornwall Trade & Investment
MD Cornwall Development Company
"The IEA warns that "today's supply and investment plans for many critical minerals fall well short of what is needed to support an accelerated deployment of solar panels, wind turbines and electric vehicles." ("The Role of Critical Minerals in Clean Energy Transitions," May 2021) Right now, the tin market is struggling to supply even current demand with a ferocious squeeze gripping both the London Metal Exchange (LME) contract and the physical supply chain. Tin demand will only increase as the decarbonisation momentum builds, which poses big questions of a supply chain that is dominated by an unlikely combination of artisanal and small-scale miners (ASM) and state-owned producers."
Andy Home - Reuters, 19th May 2021
"Tin remains the superstar of the London Metal Exchange (LME) industrial metals pack. At $37,350 a tonne LME three-month tin is up 77% since the start of the year, far outstripping aluminium, which is the second-strongest performer with a gain of "only" 26%. The London tin market has been characterised by extreme supply tightness since February. The premium for cash metal closed last week at $1,050 a tonne, a level that was unprecedented until this year. LME stocks total only 720 tonnes, having failed to rebuild despite the huge incentive for physical delivery. Shanghai Futures Exchange inventory is down to 1,256 tonnes and between them the two terminal markets hold enough tin to cover a minimal two days of global demand."
Andy Home - Reuters, 8th November 2021
"Cornwall has a global reputation for exporting expertise and knowledge in mining and the Council is clear in its desire to support this sector to re-start production in Cornwall and bring with it much needed high value jobs"
Bob Egerton
Cornwall Council Cabinet portfolio holder for planning and economy, in 2019
Previous
Next
Subscribe For News Updates
Stay up to date with the latest news straight to your inbox.
We take your privacy seriously, you can unsubscribe at any time.